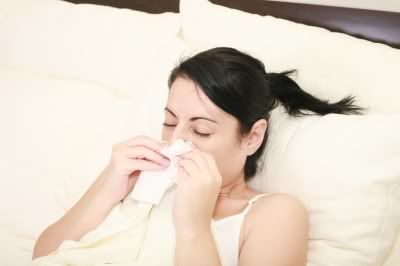 To get sick on deadline days is a nightmare for every freelance writer. It mines your ability to finish an assignment, or to work on the next one in line.
Yes, you're sick and weak and your mind won't focus enough to let you write a word after another.
Do you have to stop everything and just rest until you're fully recovered?
Well— no. You need to rest and sleep and relax while you're sick, but there are simple ways to continue writing that won't drain that little energy from your body.
1. Take care of yourself. Sleep, rest, take medicines, breath some fresh air every morning in your sick days. Relax above all. Then, when you feel you need to do something to ease the boredom— write. Get in touch with your editor and ask for a deadline extension, write down a few ideas for your assignment as they come to your mind, type slowly or —if staring at the screen gives you nauseas and headaches— write on paper. Keep a notepad and a pen on your bedside table for when you feel the urge to scribble down ideas.
2. Write after a good nap. Your body works hard to fix things while you sleep and usually, when you wake up, you'll feel a lot better. Get a good drink (water or tea) and write a little, until your body commands you lay down again. Write as much as your mind and body allow you to, but don't overdo it.
3. Update your blog. Here, I'm updating this blog staying curled up in bed with influenza hitting my poor brain and tummy. I have no urgent assignments but a guest post and a sponsored review, so I can warm up and liberate my writing spirits with a new blog post that I know will help other writers in my same conditions. It makes me feel so much better!
4. Setup a recovery plan. Of course you can't write full speed when you're sick, but what you can do is setup a recovery plan for when sick days are over: which assignments need more research? Which need to be made top priority? Is there anything you can postpone?
5. Plan day by day. You don't know when you'll feel better or be fully recovered, so my advice here is to plan your writing schedule day by day: setup a number of mini-tasks according to the energies you have on a certain day, then add more as you feel better. Just don't fill your plate while you're sick: your top priority is healing!
How do you handle freelance writing when your sick?  Share your experiences! 🙂